Wanna Have a 'Shootout' With Bill O'Reilly?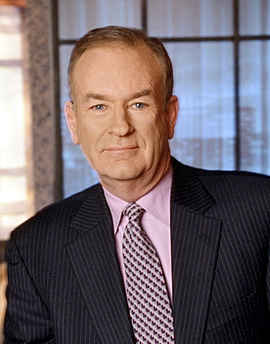 Bill O'Reilly, the hateful right-wing commentator best known for inspiring Comedy Central's
Colbert Report
, is now offering his viewers a once-in-a-lifetime opportunity. According to his website, fans - or, more likely, detractors - can now
enter
for a chance to debate Bill on his show. Six winners will be chosen from all who enter. Entrants get to pick the topic of discussion.
The guess here is that O'Reilly's staffers choose a few of the most far-left, hippie contestants they can find, and that they also throw in a conservative who thinks that O'Reilly is too centrist on some issue. I'm sure some of these will actually be fun to watch, but I don't think we'll see real highbrow exchange of ideas. To O'Reilly's credit, he isn't really a coward. He seems more afraid of having a guest look good than looking bad himself. With this contest, he probably isn't going to pick stupid Democrats, per se, so that it's an easy segment, but will likely choose opponents that he can make to look silly.
What issue would you want to take to the set of
The Factor
?